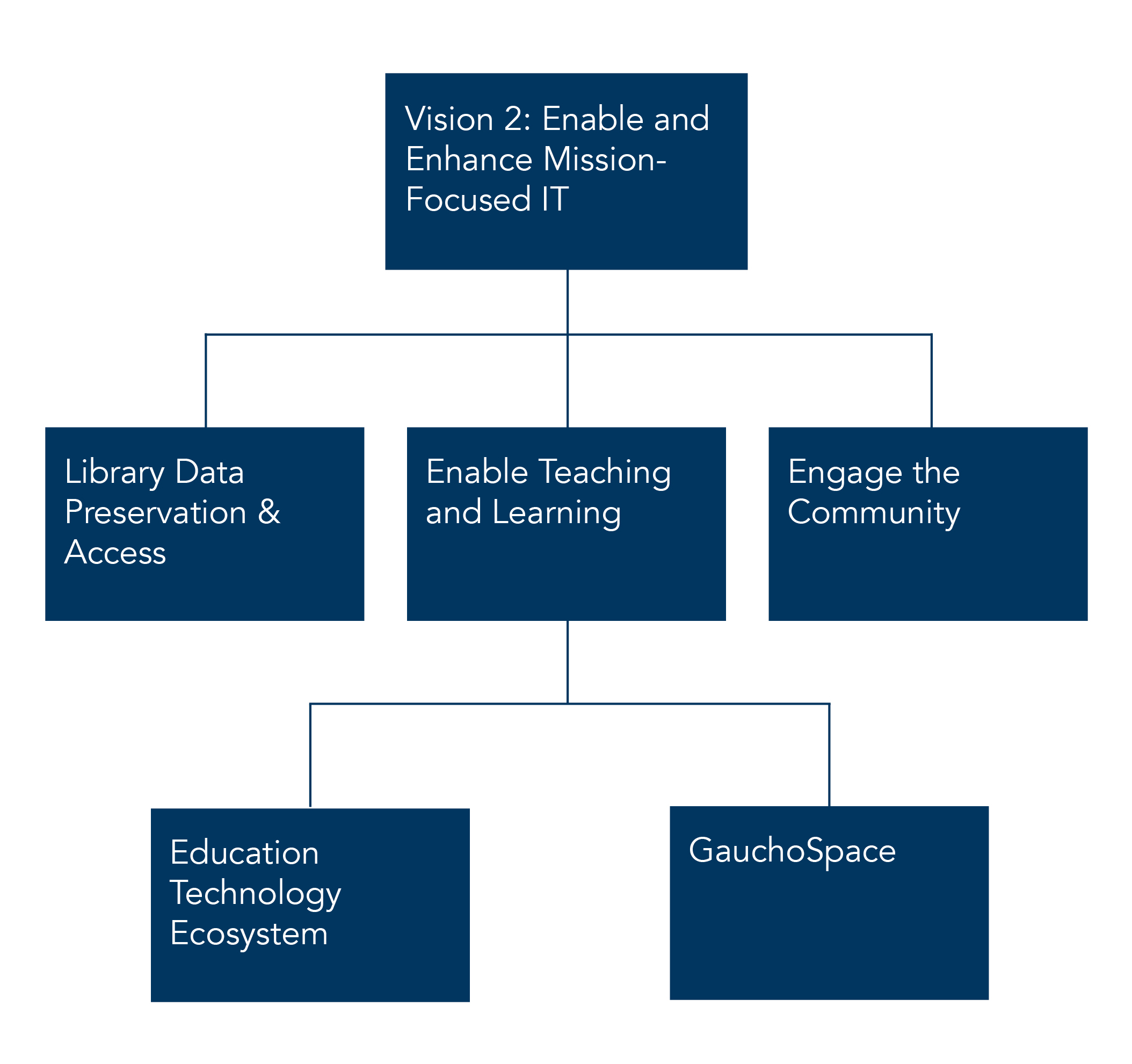 ​
Key Priority 1: Library - Research Data Preservation & Access
Public access to research data is now mandated by funders and is a cornerstone of reproducible research. Support research data storage and curation. Support and collaborate with the Library as it pursues enterprise-scale storage and discovery systems for research data, and help establish standards for data description and ingestion.
Enhance integration and interoperability with funding agencies, publishers, and scientific communities by including identity attributes such as ORCID identifier (orcid.org) associated with researchers which extend the research community beyond the UCSB campus and reduce administrative overhead.
Make UCSB research capabilities and accomplishments more widely known. Evaluate approaches such as Research Information Management Systems (RIMS) to appropriately share information about UCSB research with the community. UC Publication Management System/Elements is one example of UCSB RIMS participation.
Leverage the UCSB Campus Cloud to support campus research data preservation and curation in conjunction with cloud computing.
Support digital exhibits platforms such as Spotlight to showcase and make accessible both research and Library collections.
Key Priority 2: Enable Teaching and Learning
Education Technology Ecosystem
Campus IT Units will work collaboratively to create, foster, and support an Educational Technology Ecosystem with GauchoSpace as The Hub. The ecosystem will also include:

Asynchronous Video/Audio/Screen Capture - GauchoCast
Synchronous Video/Audio/Screen Sharing - Zoom
Assessment, Exams/Homework - Gradescope
Realtime Feedback - iClicker/iClicker Cloud
Assignments/Productivity - Google Apps
Assessment, Peer-Reviewed Writing - Eli Review
Broadcast and Direct Messaging, Community Building - Nectir/Google Chat
Virtual Computer Labs
Virtual Science Labs
Commercial Electronic "Textbooks"
Open Educational Resources (OER) - Open-Source Resources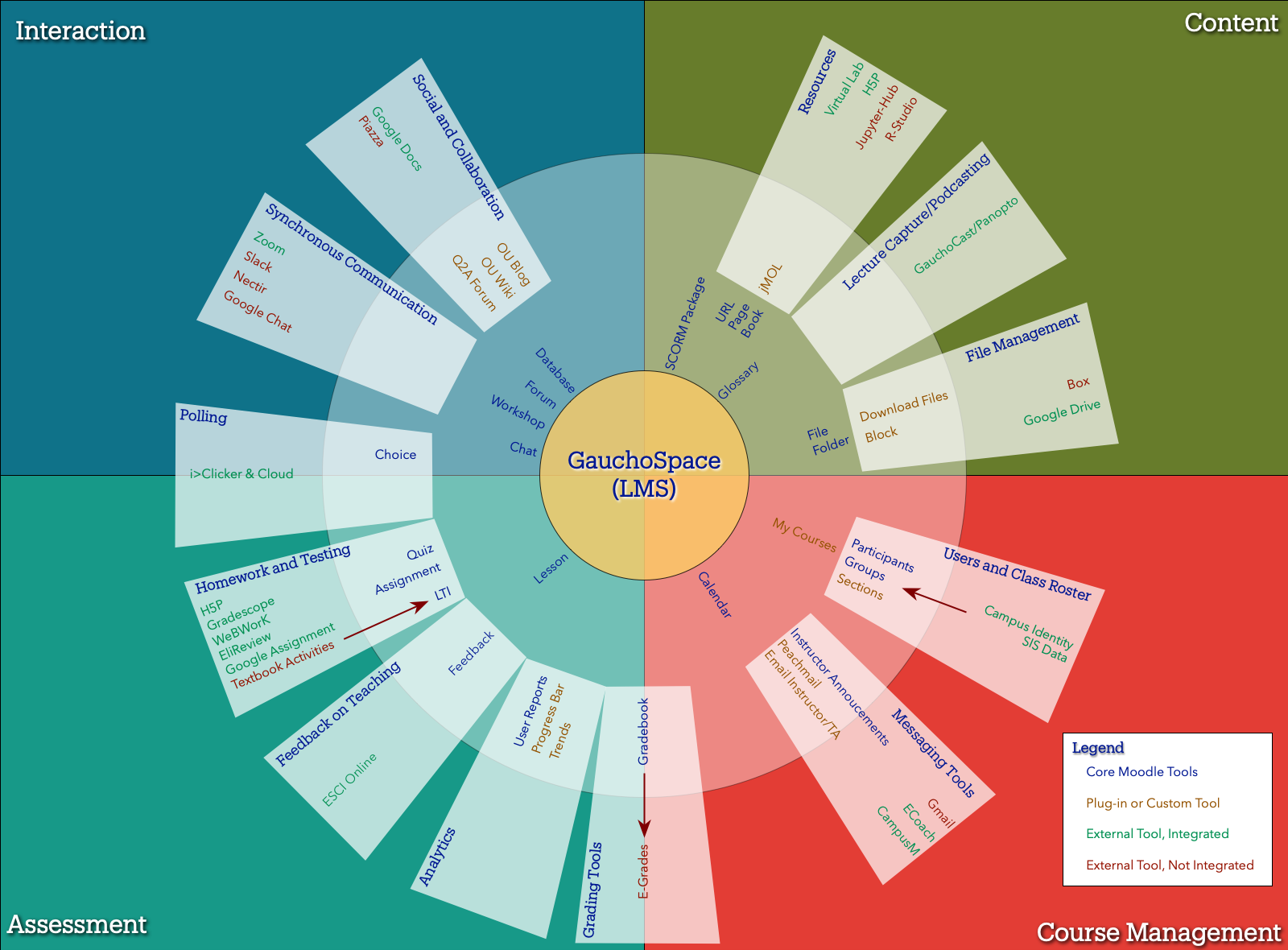 GauchoSpace

Enhance GauchoSpace service quality

Maintain a secure, easy-to-use, and pedagogically-useful learning environment to enhance the GauchoSpace service quality.

UCSB Campus Cloud-Hosted GauchoSpace

Leverage the UCSB Campus Cloud to the extent possible to modernize the GauchoSpace infrastructure for increased resilience, reliability, and scalability.

Liberate the GauchoSpace data

Deepen integration with relevant campus data sources and consumers via the campus gateways.
Key Priority 3: Engage the Community
UCSB Research Concierge Service provides personal support to faculty, researchers, graduate students and undergraduate students to ensure they have access and knowledge necessary to efficiently use the high performance computing environments available through UCSB.
UCSB Research Concierge Service engages in community outreach with faculty to gain understanding of research needs so IT staff may proactively support research.
UCSB Research Concierge Service maintains and publicises an inventory of research support services and tools available to UCSB faculty, students and staff.
The UCSB Library Collaboratory and UCSB Research Concierge Service provide regularly scheduled Software Carpentry sessions to ensure the community has full understanding of software environments and tools that support research.