Overview
Lean Six Sigma (LSS) is a combination of two popular continuous improvement methods —Lean and Six Sigma— that pave the way for operational excellence. Primary focus of these methodologies are to reduce waste, streamline processes, and increase efficiency to provide a better and faster response to the needs of the customers we serve. These time-tested approaches provide departments and organizations with a clear path to achieving their missions, both on campus and beyond.
Depending on experience and expertise, you can train for any color belt. At UCSB we are able to support delivery of White, Yellow and Green Belt training through the Office of the Chief Information Officer (OCIO.)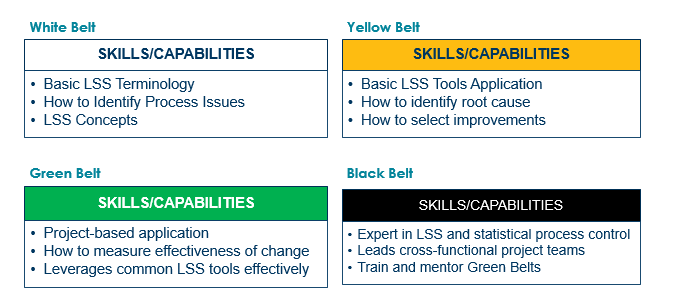 Yellow Belt Certification
The OCIO is now providing a virtual Lean Six Sigma Yellow Belt certification course, which can be attained through three instruction sessions. Leveraging hands-on practice with common tools and an engaging, restaurant-themed project simulation, participants will attend a virtual learning experience unlike any other. These sessions will also provide resources and examples to highlight the many ways in which LSS can assist teams in adopting a process-first, continuous improvement mindset.
Why should you get your Yellow Belt through the OCIO?
Integrates tools and techniques widely utilized on campus
Material is tailored to include impacts within higher education
Internal resource to reach out to for future support, guidance, and facilitation
Promotes shared UCSB terminology
Build relationships with members of other campus organizations
Minimal time commitment necessary
Upcoming Training Dates
November/December Cohort
11/27/2023 from 8:30 a.m. - 11:30 a.m.
11/29/2023 from 8:30 a.m. - 11:30 a.m.
12/01/2023 from 8:30 a.m. - 11:30 a.m.
January Cohort
01/22/2024 from 8:30 a.m. - 11:30 a.m.
01/24/2024 from 8:30 a.m. - 11:30 a.m.
01/26/2024 from 8:30 a.m. - 11:30 a.m.
February Cohort
02/05/2024 from 8:30 a.m. - 11:30 a.m.
02/07/2024 from 8:30 a.m. - 11:30 a.m.
02/09/2024 from 8:30 a.m. - 11:30 a.m.
March Cohort
03/18/2024 from 8:30 a.m. - 11:30 a.m.
03/20/2024 from 8:30 a.m. - 11:30 a.m.
03/22/2024 from 8:30 a.m. - 11:30 a.m.
Green Belt
UCSB launched a LSS Green Belt training pilot in late 2018, organized by Garry Mac Pherson, Vice Chancellor for Administrative Services and former CIO Matt Hall. Since its inception, 60 UCSB staff have graduated from the program and earned their Green Belts. If you'd like to see what our Green Belt graduates have accomplished, check out the Green Belt Project Library!
The Lean Six Sigma (LSS) Green Belt course includes hands-on, instructor-led training via UC San Diego Extension. In addition to their training, Green Belt candidates will also complete a process improvement project that results in an estimated impact minimum of $40K hard or soft savings for campus and present their final project work for evaluation approximately 6 weeks after the last day of instruction.
Information about the Green Belt application process is available here.
Black Belt and Beyond
Currently, UCSB is not offering internal training for levels beyond Green Belt. If you're interested in pursuing additional Lean Six Sigma Belts such as Black Belt or Master Black Belt, please reach out to the OCIO and we will be happy to provide you with available resources and options.