Overview
Connect Sites, a website hosting and content management service, provides easy, self-editable content, simple web forms to create on the fly, and myriad advanced features available via plug-in "modules."
The service features hosting along with ongoing maintenance and management via the Cloud service provider Pantheon to ensure 24x7x365 availability, performance, and security.
Connect Sites features include:
Drupal and Wordpress Development
Separate development, test, and live environments
HTTPS provided via Let's Encrypt
Fastly's CDN
New Relic performance monitoring
20 GB of dedicated, SSD storage
High-availability, high-performance web server hosting
Ongoing maintenance of platform security via regular updates
Daily backup with the ability to restore data up to two months
Guaranteed 99.9% uptime via automated system monitoring
Service calls during normal UCSB business hours (8 a.m.-5 p.m. weekdays)
Higher performance tiers, potentially at additional costs above the CGF (core) funded base level
Request Information
Your site will need a web address (URL). Please receive prior authorization to use a domain before requesting to create a site.
Second-level subdomain: If you have a lab, center, or program type of site, consider partnering with the IT support in your area for a second-level domain. EX: mylab.psych.ucsb.edu
Top-level subdomain: Top-level domains are reserved for official UC Santa Barbara schools, divisions, departments, institutes, or other campus-level organizational units. EX: engineering.ucsb.edu. Please review the guidelines.
Once secure the domain, submit a request to create a site.
Special Considerations
Our service does not include web design. The Marine Science Institute's (MSI's) Ocean O'Graphics and LSCG's Web Development and Design studios have the expertise to get customers started.
Our service does not include ongoing site updates required by Drupal platform changes. Each Drupal platform version is supported by the authors for approximately 6 years, after which we can no longer continue to provide hosting. Major version updates to the Drupal platform may require design changes to your site for which you'll need to coordinate with your site developers. We recommend planning to undergo a site upgrade every four to five years.
Support
Visit the IT Services Catalog at ucsb.service-now.com/it and follow the same instructions as above, or call x5000 or (805) 893-5000 for assistance.
Service Level Agreements (SLAs)
The Service Level Agreement for this service is based on Pantheon.io and typically has 99.99% availability.
UCSB Web Theme
The UCSB Web Theme is an out-of-box website-building solution for university websites. It offers pre-build page layouts, modular design tools, and continuous enhancement free of charge. Learn more at Web Theme User Guide site.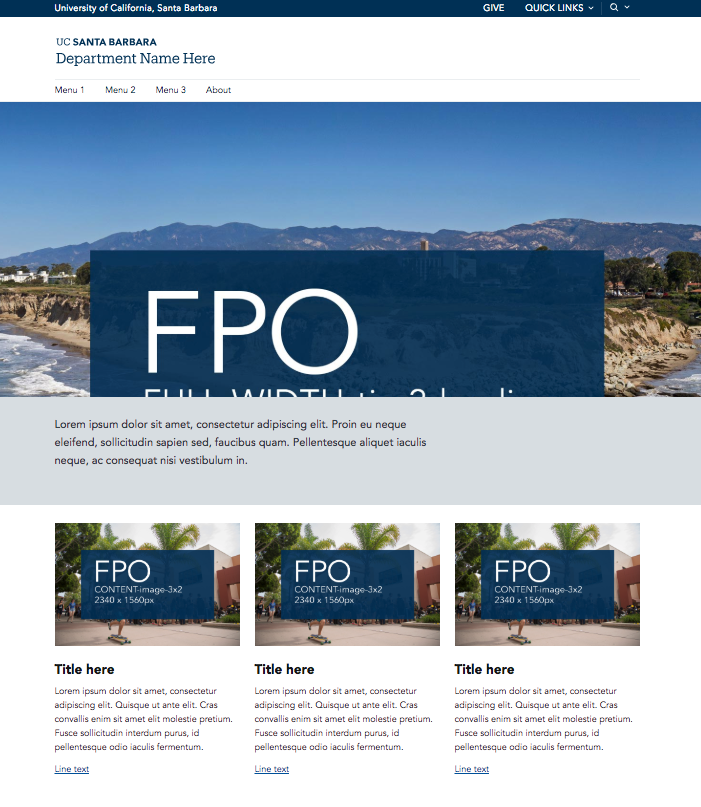 This is a sample image of the UC Santa Barbara web theme, available to all departments.