Installation
Search for and install the Ivanti Secure Access VPN client application from the Apple App Store. Please note that iOS 8.0 or later is required.
There are two ways to configure the VPN client; one is by automatic configuration, and the other is by manual configuration. Both methods are described below.

Automatic Configuration (recommended)
Step 1: Use the Safari web browser and navigate to https://ps.vpn.ucsb.edu/install
IMPORTANT - you must use Safari for the automatic configuration in order to install the certificate profile.
Step 2: Enter your UCSBNetID and password and click "Login"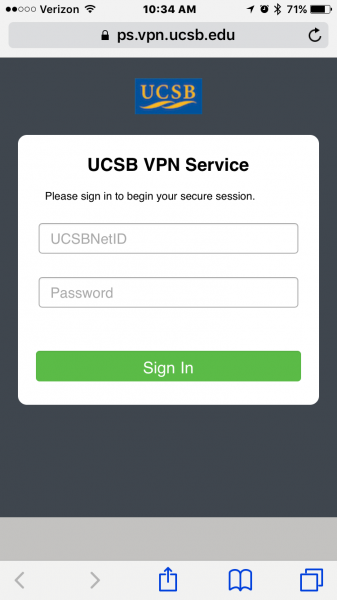 Step 3: You should see "Welcome to Onboarding Service." Tap the green "Download Profile" button. When you see the message "This website is trying to download a configuration profile. Do you want to allow this?", tap Allow.
Step 4: Once allowed, you'll see a pop-up confirming the profile has been downloading and asking you to "Review the profile in the Settings app if you want to install it." Please go to Settings to complete this installation.
Step 5: On the "Install Profile" screen, you should see the green "Verified" text and a checkmark next to "Signed by ps.vpn.ucsb.edu"