At UCSB, we are constantly working to enhance cybersecurity. Most of the campus community is already using DUO to authenticate login activity for personal accounts. Beginning December 15, any account known as a Connect Functional Account (printers, fax machines, shared account management) will need to log in with Google's two-step verification (known as Google 2SV). For our colleagues using functional accounts, the following information is provided to complete the set-up process.

What is a Connect Functional Account?
Connect functional accounts are Google Workspace accounts that belong to a function; this could be a role, such as student receptionist, or a device, such as a fax machine or printer. For shared functional accounts, you can delegate access to the account. More information on that can be found at: connect.ucsb.edu/training-support/connect-user-guides/google-workspace-email/delegating-access-your-account.

Between October 18 and December 15, any time a Connect functional account without 2SV enabled logs in via a web browser, it will remind the user to sign up with the notification, "2SV Enforcement is Coming." After December 15, users will be unable to access their Connect functional accounts without contacting a service desk for help.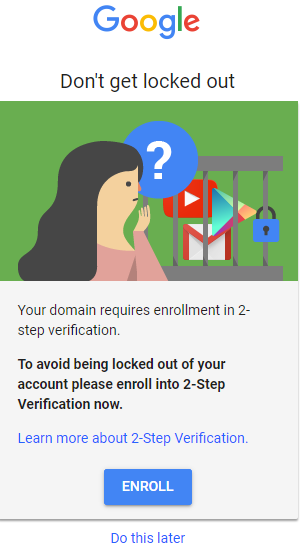 ​


How to Set Up Google 2SV: connect.ucsb.edu/training-support/connect-user-guides/google-workspace-email/enabling-googles-2-step-verification

Step 1: Log into your functional account at myaccount.google.com/signinoptions/two-step-verification/enroll-welcome.

Step 2: Follow the on-screen instructions to turn on 2-Step Verification.
After you set up 2-Step Verification, you can sign in to your account with your password or your phone.

Step 3: Verify it's you with a second step using Computer/Android/iPhone/iPad: support.google.com/accounts/answer/185839.
After you turn on 2SV, Google will ask that you complete a second step to verify it's you when you sign in to help protect your account.

Why?
As you may already know, two-step verification helps prevent malicious actors from accessing UC Santa Barbara information and accounts. Even if someone has stolen your password, they will need a "second factor" — usually a temporary numeric passcode sent via SMS or an authentication prompt on a mobile phone app — to access your account.

Who can I contact for help?
Thank you for your flexibility and support as we move our campus services forward in security compliance.