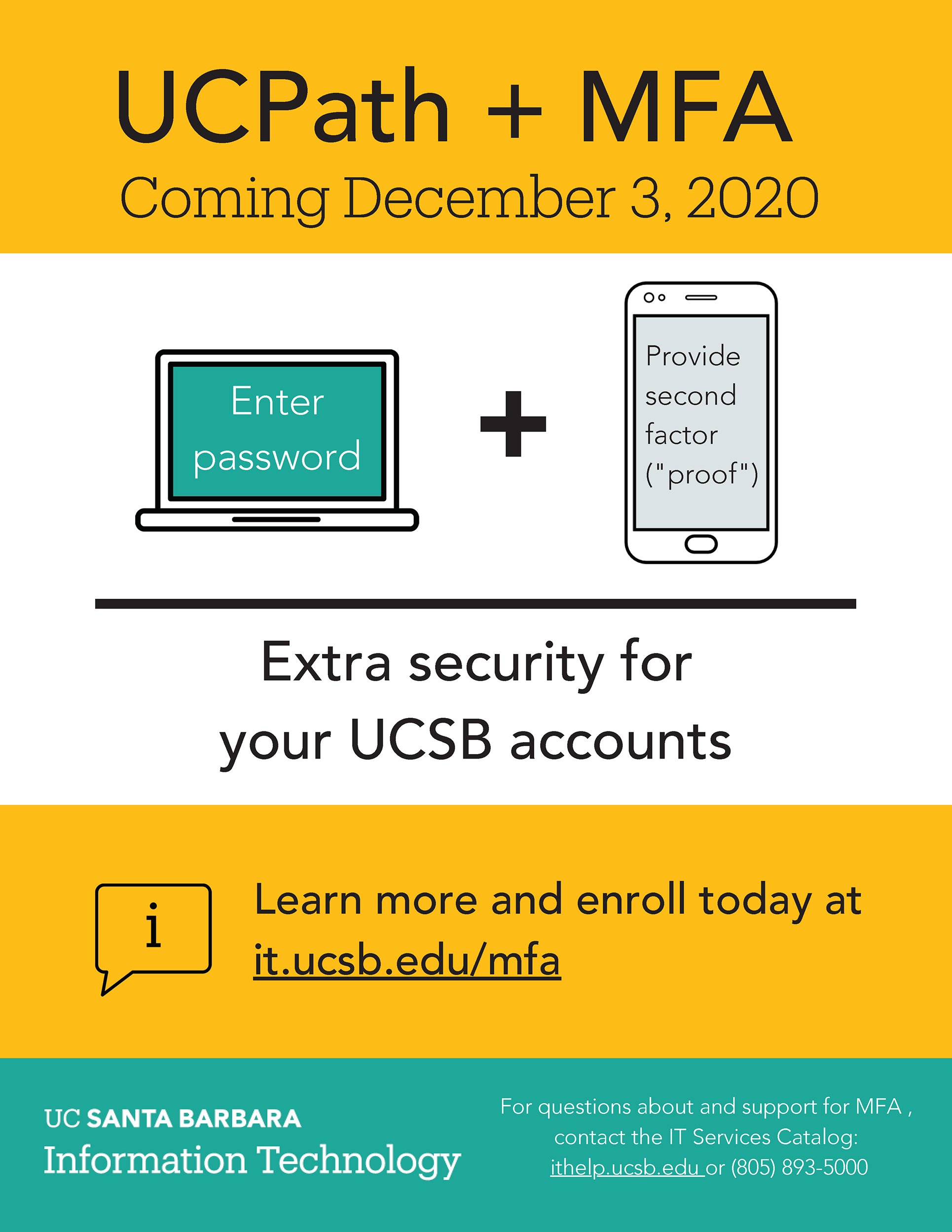 Beginning December 3, 2020, all current UCSB employees, including students, will need multi-factor authentication (MFA) via Duo Security to access UCPath. Watch a short MFA introductory video.
MFA helps prevent cybercriminals from accessing UCSB information and accounts. Even if someone steals a passphrase, they will need a "second factor" — usually a temporary numeric passcode or clicking a box in a smartphone app — to access the account.
MFA is one of the most robust tools we have against unauthorized account access, and the University of California has partnered with Duo Security to enable it system-wide.
In addition to UCPath, hundreds of staff members currently use MFA with Duo for a variety of applications. Other applications and services, including student applications, will transition to MFA throughout this year and 2021.
Enterprise Technology Services (ETS) will host seven MFA Town Halls with experts over the next six weeks to explain MFA enrollment and answer employee questions, with the first one occurring October 22, from 3:30-4 p.m. Employees can find the rest of the town hall schedule and webinar information at www.it.ucsb.edu/learn-more/mfa-town-hall-schedule. If staff can't attend any of the events, they can watch the recordings that will be available 24 hours after the end of each town hall.
Employees will receive several email reminders throughout October and November. For other MFA news and information, they can follow UCSB IT on LinkedIn and Twitter.
For questions or support for MFA at UCSB, visit it.ucsb.edu/mfa. If employees experience problems with MFA, they can request service using the portal at ucsb.service-now.com/it, or call (805) 893-5000 (x5000).