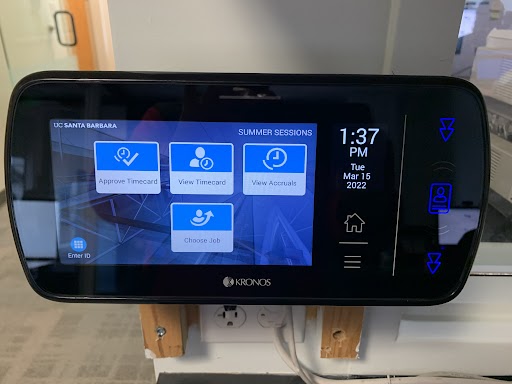 As UCSB students and staff arrive for work, many will clock in using an electronic time clock device installed in their department's facility. In July 2022, campus IT teams completed efforts to replace timeclock devices across campus, with thorough planning and coordination resulting in 63 new time clocks installed in a few short months.
Kronos, the campus' timekeeping application, is vital in tracking and reporting hours worked and leave taken. Physical time clocks aid departments with hands-on positions where employees may not always have the ability to clock in via the Kronos website. However, in 2016 Kronos stopped producing the time clock device model that UCSB previously utilized. UCSB IT set out to order InTouch DX model time clocks, which are currently supported by Kronos.
Team members worked diligently to install the new devices. According to Anne Weger, Kronos System Administrator, the project timeline included "testing and selecting the new time clock model, procurement, application configuration changes, deployments, campus communications, and training materials." Through planning effectively and using the most efficient processes, the project was completed early and under budget. The original timeline had projected completion in September 2022, but through an impressive amount of work, all of the new time clocks were installed by the end of July. The replacement was quick and had very minimal interruptions to customers, while the devices still maintained existing and familiar features.
A special thank you to the Electronic Timekeeping team (Britt Foley, Elliott Lee, Christy Zolla, Christie Pryce, Anne Weger, and Kelly Glendinning), the Communication Services team (Chad Cook and Robert Taylor), along with Andrew Morgan, Shajan Kay, Scott Nowell, and Alx Sanchez for the completion of the time clock replacements on campus.