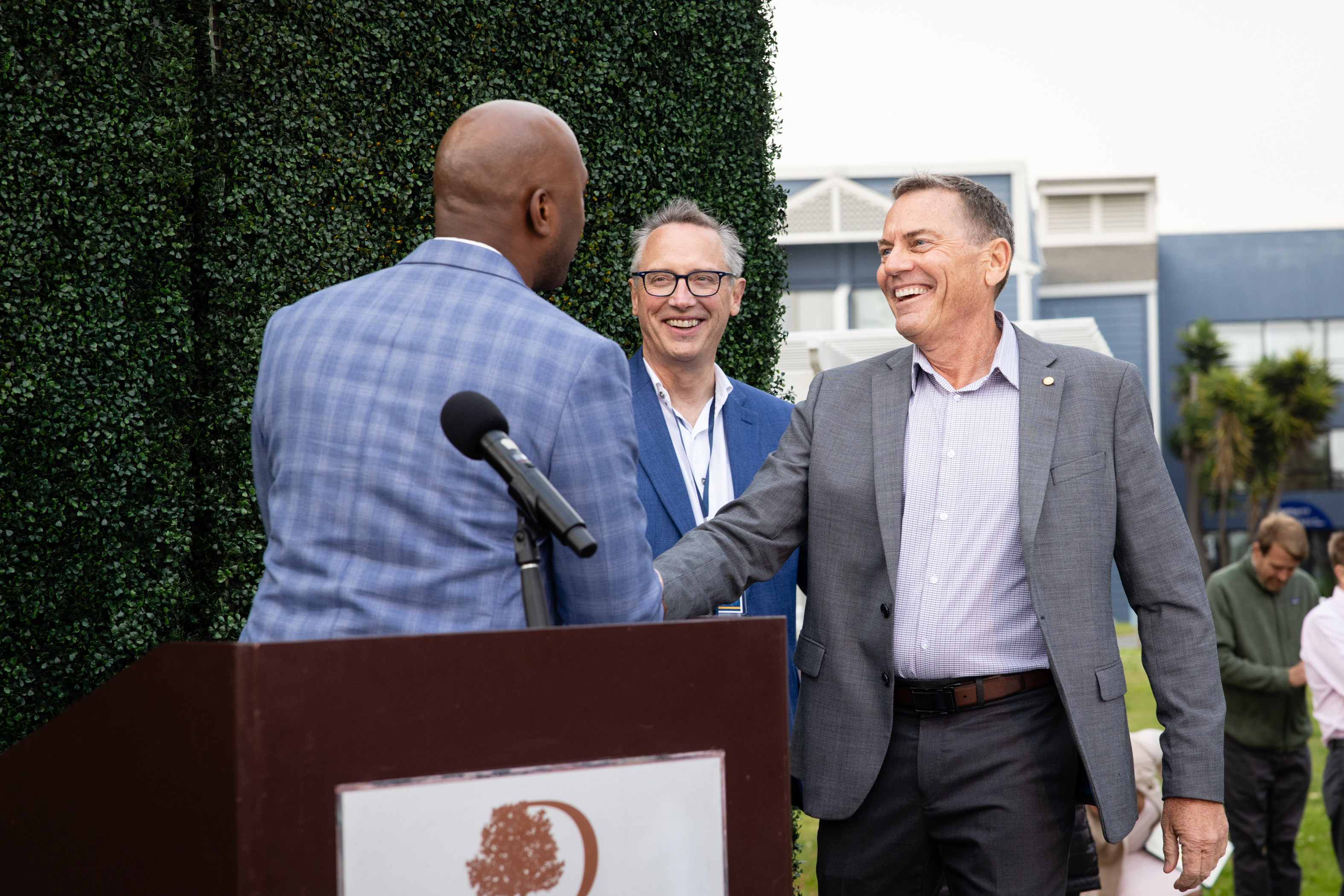 In July, technology professionals from across the UC system gathered at UC Berkeley for the annual UC Tech conference, a three-day event to celebrate and promote innovation and collaboration within the UC IT community. As part of this conference, individuals and groups are nominated to receive UC Tech awards that recognize staff achievements across a range of areas, including research, academia, and business. UC Santa Barbara's Bruce Miller was presented with the Sustained Impact Silver Award, highlighting his significant expertise, passion, and commitment to advancing UCSB's technology systems, support, communications, and processes for over 40 years.
A Gaucho alumni, Bruce has served the UCSB community since 1980, starting as a student computer operator on a System/370 mainframe. His early years providing service support and teaching short courses to users ignited a long-standing commitment to better serving campus stakeholders through technology improvements. After graduating, he helped introduce "electronic mail" (email) to the campus, a new concept at that time, and also created the first online scheduling system for UCSB Health and Counseling Centers (now Student Health Services and Counseling & Psychological Services). Between 1989 and 1994, Miller implemented the first integrated Library management system, Pegasus, and managed the campus mainframe systems. In 1994, he transitioned to the Telecommunications Services department (now Network & Communication Services), where he was a key participant in the design and implementation of UCSB's first campuswide high-speed backbone network, and also developed the design of UCSB's first student residential network (ResNet). However, one of his most prominent accomplishments during his time as Telecommunications Systems Manager was building a high-quality, customer-focused team of staff who provided instrumental support during the shift into 21st century technology.
Upon moving to the IT Program Management Office in 2012, Bruce served as technical lead for UCSB's PeopleSoft Financials implementation. He led a highly-effective team with a strong sense of comradery, once again demonstrating a consistent dedication to developing collaborative professional relationships. After that project's completion in 2015, he took on a Senior Enterprise Architect role in UCSB's Office of the CIO, where he continued to design critical integrations and processes between PeopleSoft FInancials and UCPath. Miller's career at Santa Barbara came full circle in 2022 when he orchestrated the decommissioning of the last remaining campus mainframe.
As a strong advocate for collaboration, Bruce has participated in numerous committees to help guide the adoption of new technology on campus. He has been a member of countless IT groups, chaired the UCSB IT Planning Group, and served as staff representative to the Campus Planning Committee. He currently serves as the Lead Business Solutions Architect for the adoption of the UC Common Chart of Accounts (CCOA) and migration to the Oracle Financials Cloud platform. In this role, he contributes decades of institutional knowledge to one of the most technically complex projects undertaken by UCSB, guiding complex technology designs while working closely with campus senior leaders and stakeholders to usher in a modernized financial management platform.
The Sustained Impact Silver Award highlights how Bruce Miller has participated in and led some of the most complex, revolutionary, and impactful technology projects at UCSB. Joe Sabado, Deputy Chief Information Officer, remarks on Miller's extensive contributions to campus: "Bruce's extensive expertise and dedication are evident in his diverse project portfolio and his history of team building. He has been an integral part of transformative technical initiatives at UCSB for over four decades."