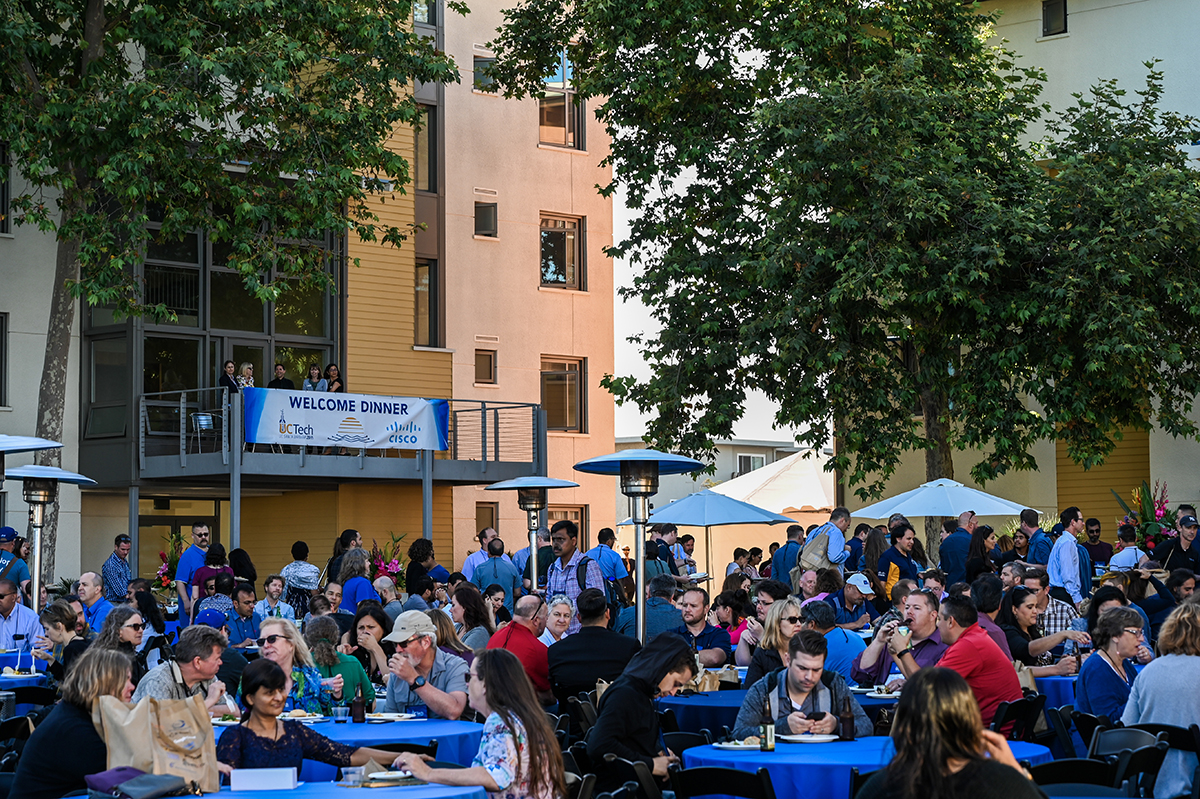 Update: August 23, 2019
The UCTech 2019 session recordings are now available. The recordings give UCTech attendees the opportunity to watch sessions they missed or want to revisit. And, for those that could not attend UCTech 2019, this is a great way to watch these informative sessions.
To find a recording simply visit the UCTech 2019 schedule, find the session you would like to watch, and open the session:
Tuesday, July 16: https://uctech.ucsb.edu/schedule/2019-07-16
Wednesday, July 17: https://uctech.ucsb.edu/schedule/2019-07-17
To request a copy of the slide deck from any UCTech 2019 session, please contact the presenter directly.
Sessions by the numbers:
Of UCTech's 162 total sessions, 18 requested that we do not record. Of those remaining 144 sessions, 121 were recorded successfully, while 17 only recorded the audio. For those, we will provide the audio recordings and in many cases the slide deck as well. Finally, 6 sessions failed to be recorded due to technical difficulties and the team is working on obtaining permission to post the presentation's slide decks.
For those that attended UCTech 2019 at UC Santa Barbara, please remember to complete the post-conference survey by Sunday, September 9, 2019.

UCTech 2019
After more than a year of planning, more than 700 IT professionals, 90 volunteers, and 29 sponsors united July 15-17 at sunny UC Santa Barbara for UCTech 2019, themed "IT Uncorked: Unleashing the Potential of Our Ingenuity."
While attendees expressed apprehension at first about Monday's heavy fog, the Santa Barbara climate revealed itself with pleasant 60s and 70s temperatures, abundant sunshine, and ocean breezes.
Monday, July 15
The conference unofficially began in the morning with pre-conference sessions for various workgroups, including the AWS and DocuSign User Groups.
Registration kicked off at 5 p.m., followed by the Reception Dinner hosted by Cisco in the Manzanita Village Courtyard. The dinner featured live classic rock and pop hits from local band The Academy. The night ended with dancing under the stars, a great start to the conference.
Tuesday, July 16
Tuesday, the first full day of the conference, featured a morning jog or walk to Coal Oil Point, yoga near the campus lagoon, 80 different presentations in four sessions, and several different activities including data center and campus tours and the Sponsor Fair. The UCTech Planning Committee from UCSB held the conference's first prize drawing and Systemwide Chief Information Officer Tom Andriola announced the winners of the Larry L. Sautter Awards.
The day's highlight came from Dr. Kyle Lewis as the day's Distinguished Speaker. Dr. Lewis is a Full Professor and Department Chair in Technology Management at UCSB.
Her talk discussed how to create organizations that "leverage our expertise, promote equity and fairness, and create meaning." Dr. Lewis talked about how to diversify IT, starting with the environment in which people work to the language recruiters use in job descriptions.
The day ended with a mixer provided by our sponsors, and dinner provided by UC Santa Barbara Conference services. Dinner also featured a performance from a second live, local band, Killer Kaya. The evening ended with a Movie and Game Night, during which the planning committee showed "Galaxy Quest."
Wednesday, July 17, 2019
Wednesday kicked off with more yoga, followed by breakfast and a keynote from Distinguished Speaker Dr. Joe Incandela.
Dr. Incandela, the Vice Chancellor for Research, Distinguished Professor of Physics, and the Joe and Pat Yzurdiaga Chair in Experimental Sciences, discussed his work with the discovery of the Higgs Boson particle and what it means for life on this planet.
The day also included five more breakout sessions, UCSB Library and Campus REEF tours. Participants could also get a Bingo card stamped by all of our sponsors to be entered into a prize drawing. A UCTech planning committee member and the representative from Ricoh also selected the first, second, and third-place winners of the UCTech 2019 Photography Contest.
The day wrapped with a gelato bar provided by Tondi Gelato in Santa Barbara.
"Best dang UCTech ever!" said UCSB Associate Vice Chancellor and Chief Information Officer Matt Hall. "Go UCSB!"
"The planning, execution, and attention to detail were just outstanding," said Tom Andriola, UC Vice President and Chief Information Officer. "It just represents another great example of the talent and dedication we have in the UC to pull off such an amazing event."
Hall also expressed his appreciation for the volunteers in a LinkedIn post.
"I want to thank our staff volunteers for putting on one of the best programs that the UC has experienced to date. Nothing but wide praise for the work you turned in," he said. "Your efforts made this possible, and those efforts were widely appreciated."
See photos from the UCTech conference and read the UC Office of the President's recap.
Thank you again from the UC Santa Barbara UCTech Planning Committee for your attendance, sponsorship, or volunteer time. We hope to see you at UCTech 2020 August 17-19 at UCLA!
Follow UCTech2019 and continue the conversation!
Slack - #uctech-conference, Twitter - @UCTech2019, and Instagram - @uctech2019.